Angry Man Versus Angry Beast
The Bible makes the distinction quite often between men and humans that are beasts.
So indeed I will try and elucidate the difference between an Angry Man Versus an Angry Beast
Men get mad when acts defy human reason!
In contrast to:
The beast gets mad because it is the beast and not man!
*****'
The beast gets mad in a self serving attempt to prove that man is the beast and not the beast itself!
(Something about a family line of priests that share the same genetic abnormality!)
The beast also gets angry in an attempt to prove that Human Conscience and Human Reason are:
2.
Contrary to business and therefore vitality.
3.
Contrary to productivity.
4.
Contrary to societal functioning.
Therefore to know the secret of the beast without being the beast one faces the threat of personal extinction!
As soon as Jesus started using the term Satan to describe the beasts of the Roman Empire he was done wasn't he!
It makes the beast angry when a man knows it's the beast; hence the beast attempts to make man angry for knowing the beast is the beast?
What the Bible is really describing are people that lack what human beings are defined to have in order to be ones; Human Conscience and Human Reason.
Can the beast be defined similar to this construct, "The beast likes to eat catnip and roll on the floor?"
And one final item for consideration, can you think of anything that can be readily consumed that can make a person act more like a beast than a human; if you indeed believe the concept of integrity should be considered a graduated scale type of determination with some slack in it; I don't. And what is the concept of one becoming more competent by taking a drink? It is really them killing off their own brain cells because they interfere with their own thinking? So in order for the beast to become more competent it believes it has to have less brain capacity? Sometimes learning is a matter of frustration, this is also when men know in comparison to the beast! Facing obstacles such as personal frustration in learning makes the reward of learning something even that much more of a personal achievement!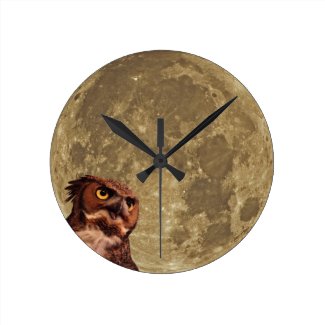 Night Owl Clock
by
ThomasPaulMurphy
Find additional
Clocks
online at Zazzle
Thomas Paul Murphy
Copyright 2013 Thomas Paul Murphy