If you can't read the instructions you die 12 30 2013
Bill Gates believes that the world's population needs' to be reduced by 10-15%!
And perhaps the best way to accomplish that would be the principle of "If you can't read the instructions you die!"
As in:
1.
It said not to point that directly at yourself or anyone else; you didn't read the instructions and you died.
******'
No instructions needed on the following gift. You figure out how the pieces of the puzzle form a picture and you put them together that way. Risk of death extremely low; equivalent of drinking a glass of clean water.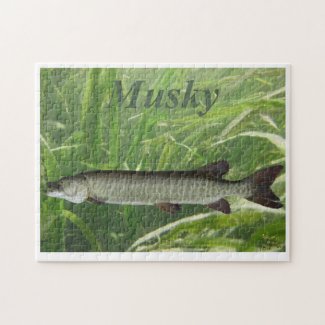 Musky Puzzle
by
ThomasPaulMurphy
See other Musky Puzzles at
zazzle
*****'
2.
The label read causes birth defects, cancer and in very fine print, Instant Death, you didn't read it and died.
3.
You did not assemble and use that properly as per the instructions and you died because of it.
4.
The instructions for air and water quality regarding what could support human life were not maintained because you did not vote for responsible people and you died.
5.
It said not to operate that motor vehicle when you had forfeited your legal rights with regard to contract law by consuming a drug and you died.
6.
You chose to raise a child that would not be capable of caring for another human being and you died because that child could not read the instructions!
7.
It said you were not allowed to hire illegal aliens and pay them with cash under the table but you did and got e-coli from their cooking and died.
8.
The instructions were written in English you were stubborn and never learned it and could not follow the instructions and died.
Now with all the horror movies that Hollywood has given us how come they have not given us one titled "If you can't read the instructions you die!"?
It is a little higher intellect level of humor isn't it?
Those indeed could be the scenes of such a movie.
Thomas Paul Murphy
Copyright 2013 Thomas Paul Murphy