Compliance to the Clean Water Act would be rapidly achieved if all fish consumed had to be caught locally!
They could not have any PCB or Mercury! You can't outsource to a country whose Ocean is yet to be nuclear polluted! You can not have the equivalent of slave labor hired by U.S. Management competing with the United States! And also ruining our world environment at a quicker pace. And McCarthyism should have never given Japan Nuclear technology. Forget about the Nuclear missiles the Nuclear Power plants are far worse!
Where have the Father Governor's been who would take a look at our feces rivers and say, this cannot be allowed to happen anymore and I am going to put a stop to it by every means necessary! And all that really means is enforcing, with the use of force if needed, provisions of the clean water act!
And there are many other violations of our Constitution that will need to be enforced by the use of force!
It is like Jesus said, "Do not put us to the test!"
What did the crook say? I can no longer eat fish from here so I will just bring it in from somewhere else and no one will know the difference! Believe it or not some of us do!
And more thing, in an effort to make that Italian mans wife happy he decided that he would take 10% of all clothing coming into the United States? Why did he do this? Because he wanted to make his wife feel like he was able to feed and clothe her? Or to give her a sense that of being a mother to the country because she controls fashion? Her sense of fashion is felatio lips pumped up higher than a bicycle tire ready to explode! We have had enough of that!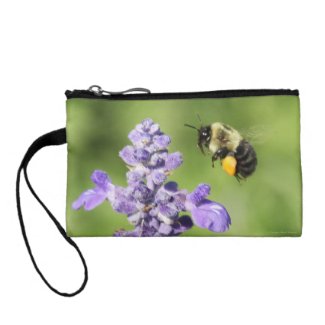 BEE to Purple Flower Key Coin Clutch Change Purse
by
ThomasPaulMurphy
Check out more Bee Bagettes Bags at
Zazzle
Thomas Paul Murphy
Copyright 2013 Thomas Paul Murphy
Originally published on 12 10 2013 at:
www.themilwaukeeandwisconsinnews.blogspot.com