Dental Hygiene 12 21 2013
Proper mouth hygiene plays a more important role in your overall health than most people realize.
I use a water pick.
But I also add something to that water pick water so that my mouth becomes more clean.
And I have tried using various mouthwashes.
I don't like to use many of them because they are alcohol based.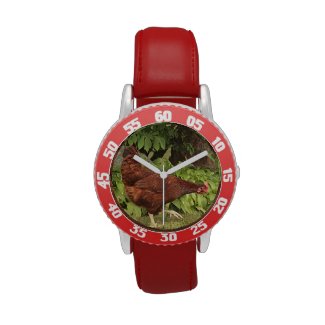 The Chicken Watch
by
ThomasPaulMurphy
View additional
Wristwatches
online at zazzle.com
You need one of these Chicken Watches today! It has the photographic image of a free ranging Red Rooster photographed near Random Lake Wisconsin! Makes the perfect gift!
So I made my own.
To do so you must purchase a bag of cloves at the spice store.
Then you make a simple tea out of them using hot water.
Drain the tea into a small 8-12 oz bottle and add to your water pick water before using it!
Cloves have strong antiseptic power.
It is also important to use a tongue scraper and a tube of tongue cleaner that you might find at a store that sells health care items.
Snow Removal Hints
When you have a layer of ice on your driveway and put salt down on it.
It is very important that after the salt starts to lift up the ice that you quickly remove it before it refreezes!
And sometimes you might not get all the ice up the first time.
If you have a sloped driveway it is a good idea to chip a line at the upper end of a concrete slab and put some salt in that area.
The salt will tend to melt the ice it is on top of and also then cascade under the ice on the slope below by the force of gravity and lift that ice up to.
This method allows you to use less salt and therefore help save our environment.
Thomas Paul Murphy
Originally published on 12 21 2013 at: www.themilwaukeeandwisconsinnews.blogspot.com